Personally, I don't really buy into the whole "New Year, New Me" craze, though I will support any efforts for people to reevaluate their lives and improve on areas that they think needs work.
But if the New Year is all about turning over a new leaf, why not do something fun and spontaneous? I say this, and yet I suppose I haven't gone too crazy as of yet. I just decided that this January I would change things up a bit with my hair… again.
Remember that time I had maroon, then blue in my super long hair?
Or last year when I decided to chop off most of said super long hair?
Yeah me too.
This year, I'm starting the year off with a bang. Ahaha punny. 🙂
One of my favorite ways to show off my bangs it to wear my hair up. I never used to feel super confident with my hair pulled back and now I love it. 
Spur of the moment I told my hairdresser that I wanted bangs very similar to Emma Stone circa 2013.
And when I say spur of the moment, I mean I was still deciding what I wanted when I sat down in her chair.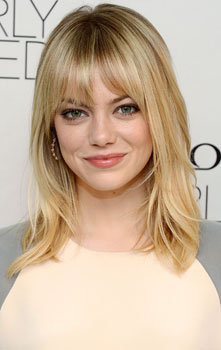 If you can't tell, I also like messy, piecey hair with these bangs. They've got me feeling like a badass.
My biggest concern is that I already look young for a 24 year old, and I didn't want my bangs to look similar to the bangs I had when I was 15. I don't need to look any more like a teenager than I already do.
But I think the messy, jagged nature of the way she cut them completely fits my current style. I've actually felt more comfortable wearing my hair up in a bun or pony tail since making the switch, because I've always felt my forehead was huge and the extra covering has helped me be a little more confident. (We all have our weird little insecurities, am I right?)
I'm pretty stoked to see how my bangs look as I grow out the rest of my hair this year. (The goal is look like Sienna Miller, but honestly, when is that NOT the goal?) And they are proof that last minute decisions can totally pay off. I need to remember that as the year continues.
Happy February, everyone!